A room thermostat is used to regulate and maintain the desired temperature in your home.
It is a digital device that can tell you the temperature of its surroundings. It does this using an electronic sensor and can communicate with the boiler to provide the ideal room temperature for yourself.
Doesn't matter if you have a wireless or wired room thermostat it works the same.
HOW DOES A ROOM THERMOSTAT WORK?
We will explain it more
A thermostat is a device in the home that is connected to the central heating system and is used to control the overall temperature of the system by monitoring the ambient temperature in the home. This temperature control device can then switch on or off the central heating system depending on the temperature in the home and the setting of the thermostat. One of the most common and older manufacturers of thermostats you may find in your home is Honeywell.
HOW DO WIRELESS ROOM THERMOSTATS WORK?
A wireless thermostat is communicating with the boiler through a receiver.
If the temperature drops below a certain level, a sensor in the room thermostat can be made to trigger the switch for your boiler which will heat the radiators. If the room rises above a certain temperature, the thermostat will then turn off your central heating system so that your house will cool down to its desired temperature.
IS A ROOM THERMOSTAT NECESSARY?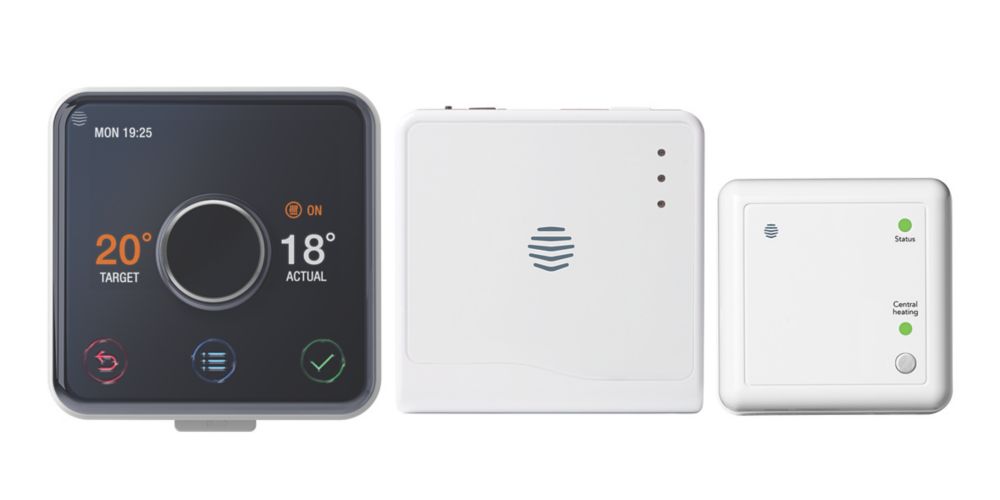 The thermostat controls the boiler and turns the boiler off when the room reaches the chosen temperature. Without a room thermostat, you can't control the temperature in your home efficiently. The radiator valves do not control the boiler, it's controlling how much water enters the radiatoors.
WHAT ROOM SHOULD THE THERMOSTAT BE IN?
The best place for your thermostat is on an interior wall, away from all the areas such as (direct sunlight, air vents, your kitchen, hallways, windows and doors). Ideally, it should be placed toward the centre of your home.
WHAT ARE THE MOST POPULAR ROOM THERMOSTATS IN THE UK?
Honeywell, Drayton, Danfoss, Nest and Hive are the best sellers, and reliable brands to install.
DO YOU NEED AN ELECTRICIAN OR HEATING ENGINEER TO INSTALL YOUR NEW ROOM THERMOSTAT?
Ideally, you should hire a gas or heating engineer to replace or install a new thermostat. However, if you wish to do it yourself, think twice.
Why installing a thermostat is NOT a DIY project
There are many styles and configurations to consider when replacing your thermostat.
It is possible to save some money by installing or replacing your thermostat yourself, but you will need:
Basic electrical knowledge
A general understanding of the type of equipment being used.
Potential consequences of the improper installation could include:
Electric shock
Blowing a circuit breaker
Damaging the thermostat unit, and the electrical system.
Dual-fuel systems, poorly located thermostats, whole-home humidifiers, or incorrect wiring can make the installation of a thermostat a longer, more frustrating, and more complicated process.
Advanced systems require more detail to determine the best options and can be more expensive to set up.
Connecting the wires in the wrong place and your boiler PCB (printed circuit board) can burn out.
As we said earlier, we will talk about more how exactly the room thermostat is working.
HOW DOES A CENTRAL HEATING THERMOSTAT WORK?
Your central heating thermostat is an essential part of the running of your heating system. Whatever your temperature needs are – this device is there for you to easily control the heat in your home.
It's easy to find the right heating thermostat for you and be confident that you'll be saving energy in the long run.
For example, you can set up the desired temperature in your home. If the temperature drops below this, it will automatically turn on the heating and reach the level you feel comfortable with. Whenever the temperature has reached the point you set up, it will turn off, therefore you save energy and money.
THERMOSTAT TYPES IN THE HEATING SYSTEM
Room thermostats (analogue thermostat, digital thermostat, smart thermostat)
Thermostatic radiator valves (TRVs)
Hot water cylinder thermostats.
Boiler thermostat.
Automatic boiler thermostats.
Boiler interlock.
ARE YOU PLANNING TO REPLACE, OR INSTALL A NEW ROOM THERMOSTAT?
You may have come across many different types of thermostats, but you may not know the difference, and that is normal, we do not have to know everything we came across with. In order to choose, we made a little useful guide, to assist you in the right direction.
Here are the main terms you should know about the room thermostat types:
Room thermostat
A room thermostat is basically a term used to describe the whole collection of thermostat types. They can be wired or wireless, timed, programmable room thermostat, mechanical or digital, however, they both do the same. Helping you to save energy, and money, and make you feel more comfortable in your home.
Analogue thermostat
Analogue thermostats are cheaper to buy and simple to operate. These simple types of thermostats are ideal for elderly residents or those who need a little more simplicity.
Digital thermostat
 Digital thermostats are a popular choice. They look better, they're easier to control and usually come with more features. They are a little more expensive going digital will enable you to get a more accurate reading.
Smart thermostat
They are upgraded devices, for those with busy lifestyles, they can make their life much easier. Thanks to the convenience of it being on your phone – you'll have peace of mind and control your needs. 
As well as controlling the times and temperatures like a digital thermostat, smart thermostats allow you to control this via an internet connection, at different times. It can warm your home, therefore you can arrive into a warm house, and feel better on an arrival. Also, it can prevent overheating, and save you energy.
The Google Nest Learning Thermostat learns from you and your habits in order to personalise a number of factors:
The GNL thermostat gets to know which temperature you like and amends your current temperature to reflect this.
Hot water control – you can boost your hot water whenever you like and your thermostat will know when you're away, saving you the job of turning off the hot water.
Energy usage – it reviews your needs regularly and learns where it can save energy in the process.